diBar

slimQR
Extremely Compact and light weight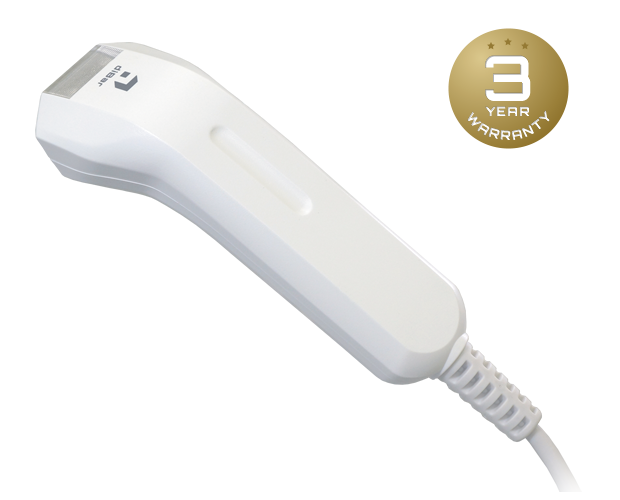 Features

Antibacterial body material
Suitable for the use in healthcare application such as medical/care home scene.
Data format editing function
The data format editing function is flexible to use. It enables to insert optional characters into deignated positions of the read data or removing specified characters out of the read data.
GS1-128 supported
Compatible with GS1-128 healthcare standard. With installing this optional fucntion, Application Identifier(AI) is detected, then the output data can be editted.
Barcodes readable on the LCD screen
It can read a barcode on the LCD screen such as on a tablet PC, on a smartphone. This feature enables to read mobile coupon QR code issued by wallet softwares.
Comfortable gripping position
By placing the thumb on the center dimple of top surface, the index finger is positioned naturally to the trigger.
HID POS compatible
Easy reading confirmation by Visual Brightness Indicator
Thanks to the newly introduced VBI™(*) function (wide area high brightness blue LED indicator), reading area can be easily confirmed.
(*)VBI=Visual Brightness Indicator
Space-saving design including stand holder.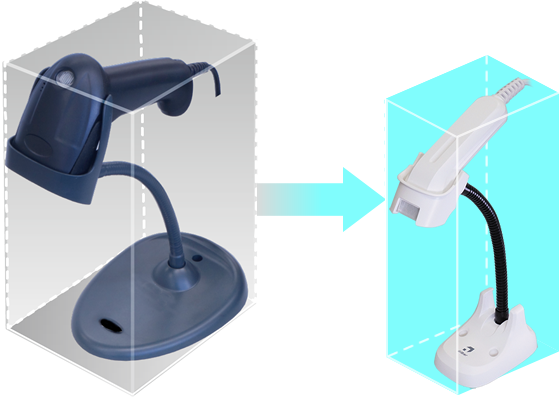 Much smaller than typical 2D hand held scanner.
Dimensions:117.24(W) x 34.2(L) x 40(D) mm
Weight:approx. 38grams (without cable)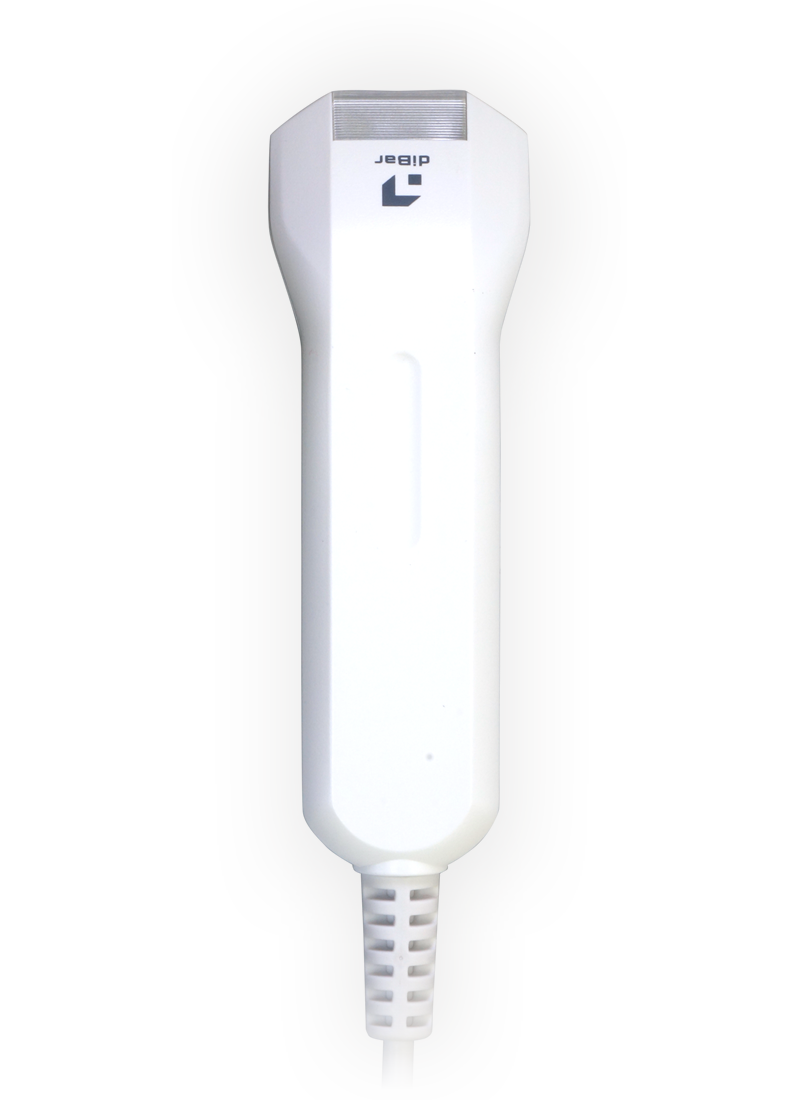 Versatile applications

by additional functions
GS1 code editor
The Application Identifier (AI) is automatically detected from the read data and transmitted at 4 patterns editing format.
GS1 format checker
Checks the Application Identifier (AI) or AI data is correctly encoded in the format.
Data verification function
Symbologies
| Item | Symbologies |
| --- | --- |
| Linear | Codabar, Code 11, Code 128, Code 2 of 5, Code 39, Code 93 and 93i, EAN/JAN-13, EAN/JAN 8, IATA Code 2 of 5, Interleaved 2 of 5, Matrix 2 of 5, MSI, GS1 Databar, UPC-A, UPC E, UPC-A/EAN-13 with Extended coupon Code, Coupon GS1 Code 32(PARAF), EAN-UCC Emulation, GS1 DataBar |
| 2D Stacked | Codablock A, Codablock F, PDF417, MicroPDF417 2D Matrix: Aztec Code, Data Matrix, MaxiCode, QR Code, Chinese Sensible(Han Xin) code |
| Postal Codes | Australian Post, British Post, Canadian Post, China Post, Japanese Post, Korea Post, Netherlands Post, Planet Code, Postnet |
Specifications
Item
Specifications
Interface
USB(HID, COM), RS232C
Illumination LED
White LED
Aimer LED
RED LED
Sensor
CMOS 640×480 pixel
Motion tolerances
100cm/s(UPC 100% at optimal focal point)
Typical frame rate
30 frames/sec
Scan Angles
Tilt
±360°
Pitch
±45°
Skew
±45°
Depth of Field
50~250mm(NB=0.4mm)
PCS
30% min.
Maximum barcode size
110mm
Minimum code resolution
0.127mm (code 39)
Reader window size
35mm
Drop
1.2m to concrete
Ambient light
0~100,000lux
Input voltage
DC5%V ±5%
Power consumption
Operating mode
USB
210mA
RS232C
320mA
Standby mode
USB
2.5mA
RS232C
6mA
Temperature
Operating temperature
-10~40℃
Storage temperature
-40~60℃
Anti-static strength
Air 8KV, direct 4KV
Humidity
Humidity Relative humidity 95% non-freezing, non-condensing (@40℃)
Dimensions
W 117.24 x L 34.2 x D 40mm
weight
approx. 38grams (without cable)
Cable length
USB cable
approx 1.5m
RS232 cable
approx 2.0m
protected class
IP40
MTBF
70,000 hours (2D engine)
Regulatory approvals and compliant
FCC, CE Class B, VCCI
Warranty
3 year
Download
Name
Compatible models
File
Product Brochure

(cat-slimqr.pdf)

slimQR
diBar 2D reader Quick guide

(dibar2d-qg.pdf)

slimQR, cubeQR
diBar 2D reader User guide

(dibar2d-ug.pdf)

slimQR, cubeQR
silmStand assemble guide

(slimstand-qg.pdf)

slimQR
USB COM port emulation driver

(db2dcomdriver.zip)

slimQR, cubeQR
OPOS driver

(db2dopos.zip)

slimQR, cubeQR
Image capture utility

(diBar2d_win.zip)

slimQR, cubeQR
Optional function with quick guide

(plugin-ug.zip)

slimQR, cubeQR
Model
Model number
Specifications
slimQR-USB
area imager, USB interface(HID/COM/HID-POS), 1.5m
slimQR-microUSB
area imager, microUSB interface(HID/COM/HID-POS), 1.5m
slimQR-RS(*1)
area imager, RS232C interface, 2m straight cable, (AC adapter optional)
slimSTAND
Stand holder (Gooseneck), Space-saving design stand holder
slimHOLDER
Special holders, Desk top/ Wall mount applicable
SW-AD1-DB2D(*2)
Optional functions:
GS1 code editor/GS1 format checker/Code verification function
PS5V
Power supply adapter, AC input, DC5V output
(*1)Custom order item.Please consult us for the availability and delivery conditions.
(*2)Optional function(s) must be ordered at the same time when slimQR/cube QR main unit order is placed.
PRODUCT

We have a complete assortment of barcode scanningfor your business needs.